Naples Cyclery and Fit & Fuel Bicycle Cafe
It's more than an experience . . . it's an adventure!
    813 Vanderbilt Beach Road,
Naples, FloridaNaples, FL 34108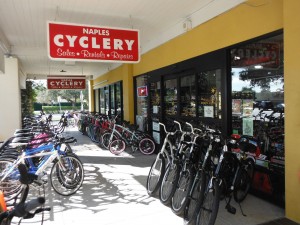 Whether you are that person who has mildly entertained the notion of once again getting on a bicycle, you are an experienced bicyclist or anything in between including an interest in rentals, this is the place for you!  It's a marvelous mixture of bicycles, a charming café and conversation.  The 4,500 square foot shop is expediently accessible by car or bicycle in Naples, FL.   As an avid bicyclist for the past 9 years logging more than 31,000 miles, I have encountered a multitude of bicycle shops.  This shop not only appealed to me from all outward appearances, their welcoming and expert staff sold me!!
Although I may not look it in this photo, I am ecstatic after picking up a refurbished and very much improved "Spirit" from Naples Cyclery.  "Spirit" and I had logged more than 11,000 together in the US, Belize, Mexico and the Netherlands; many miles very challenging for both of us.  While I lost weight and am in better shape because of it, "Spirit" needed a lot of work and I knew it but was not mechanically inclined enough to diagnose.  I spotted Naples Cyclery on one of my more leisurely rides.  Checking out bicycle shops is a bit of a hobby for me.  As a former owner of a few businesses, I am still curious to see the goods and, most of all, experience the service.
Wow!  What a place!  As soon as I walked in the door, I received a warm greeting from one of their expert staff members.  We talked about what I needed but first, the staff member gave me a tour of the place; its various working/accessary stations, the array of bicycles, and even the Fit & Fuel Bicycle Café two doors down.  After that, we got down to the business of "Spirit".  Bicycles do not have a fancy computer to diagnose problems.  It's done the old fashioned way with an appointment and a thorough exam.   I made the appointment preparing myself for the worst possible scenario.  Before I left, I stopped at the café and enjoyed a wonderful sandwich wrap and a couple of beers.  The café has a delightfully healthy menu (except for the beers, I suppose) and is sensibly priced.  I'd go back!
I dropped off "Spirit" for her exam.  The staff was kind enough to give me a loaner so I rode off into the sunset wondering if "Spirit" would be all right.  The following day, I received THE call with the diagnosis.  While nothing surprised me, like any consumer, I was hoping for a little tune-up.  That didn't happen but I understood.  I agreed to the work and four days later, I had "Spirit" back . . . back to the way she was 11,000 miles ago!  The cost?  Well, as the saying goes, "You get what you pay for."  I walked away with a healthy "Spirit" satisfied that I got that and much more for the money I spent.
Go for a Naples Cyclery adventure and experience first-hand their shop and superior staff support.  You'll be glad you did.  If you cannot go right now because of time or distance, take a virtual tour on YouTube:
http://www.youtube.com/watch?v=MTl81ECwrZQ#t=23
You can also visit their website: http://naplescyclery.com/
Frank E. Briscoe & "Spirit"