Roy's Store, Chatham, MS to Vicksburg, MS
Distance 88 miles all on my bike, 12.3 mph average, 7:08 ride time, actual time on the road 9 hours 10 minutes.  Today's Expenses $19.70
Have you donated to National Multiple Sclerosis Society yet?  If not here is the direct link to my profile page where you can make a donation and end the world of MS:
http://main.nationalmssociety.org/site/TR?px=1782261&pg=personal&fr_id=17893&s_tafId=230714
your donation will make a difference, please help. Thank you. The Old Guy
Up at 6:15, dressed and walked over to Roy's Store for a hearty breakfast before setting out for what would be my longest day of riding.  While having breakfast was able to visit with Pam one more time and a couple more local characters that made for great conversation.  Ah sigh of relief as I went outside to a sun shinny day. The riding was flat and easy alongside beautiful Lake Washington with very light traffic I was able to make great time even stopping frequently to take pictures.
In fact, there were no hills to climb until arriving on the outskirts of Vicksburg making this stretch of the MRT one of the easiest of the entire journey along the Mississippi River.
Vicksburg was one of the overnight town's where I didn't have a place to stay lined out in advance.   In these instances I look for the first of three places to find shelter a church, fire department and chamber of commerce.  Riding through the heart of downtown Vicksburg just beyond the Historic district on Washington Street I spotted a large Fire Station to my left and immediately wheeled Spirit into the station where three fire fighters were taking a break.  I introduced myself to them and expressed my need to find a place to stay this night.  As predicted they all were quick to help me find a place.  One fireman phoned his Pastor, another phoned the Red Cross while the third went to get Deputy Fire Chief Mark Hales to see if I might be able to stay the night at the Station.  Immediately Deputy Chief Mark arrived and shook my hand and said while the guys were seeing if they could find me a place he would check with Fire Chief Charles Atkins to see if I would be allowed to stay at the Station if all else failed.  Within minutes Chief Atkins gave the OK for me to stay if no other arrangements could be found.  I like staying at fire stations the most as firefighters are always a great bunch of guys who have many stories to share of their own.  I crossed my fingers and said a quick prayer I'd be able to stay here at Central Fire Station #1, it worked.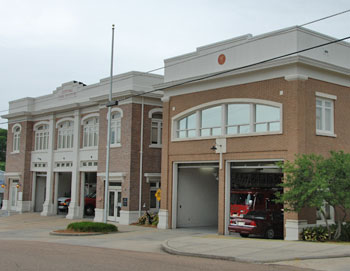 Captain Shane Miller showed me to the upstairs living quarters of the station, another fire fighter found a towel for me to use when I took a shower.  After cleaning up Captain Shane offered me a lunch leftovers of Venison in brown gravy, red beans and rice and home grown green beans.  After having ridden 88 miles today I chowed down finished off all the leftovers.  I did wash the dishes I used as well as clean the pots the grub was in.  With a full tummy I next met Lieutenant Chris who looked over my map and lined out the easiest and safest route for me to follow when I continued my journey along the Mississippi tomorrow.
The next great firefighter I was introduced to was Assistant Chief Craig Danczyk.  He took the time to answer my many questions about the department and Vicksburg.  What a wealth of information he was regards to Vicksburg history especially during our civil war.  Vicksburg was a vital town to both sides during the civil war and many battles were fought won and lost on both sides before the General Grant's final victory.  There is a huge National cemetery in Vicksburg where many good soldiers lost their life in the struggle between the North and South.
Assistant Chief Craig also was well versed in the history of the fire department.  I learned the Vicksburg Fire Department was first organized in 1837, was the first fully paid professional department in the State of Mississippi.  Central Fire Station was built in 1925 and renovated in 1996.
Fire Station # 7 built in 1912 much as it was when built and still in use. The modern day fire truck just barely fits though its doors.
Chief Craig further told me to check out Fire Station #7 a couple miles south on Washington Street as it was built in 1919 mostly as it was built and still in operation.  I had to ride down and check it out and following are pictures of it.
Before calling it a day, I asked Assistant Chief Craig if I he would allow me to get a picture with him and the fire fighting men of Shift A, Battalion #1.  What a great bunch of guys as they all came downstairs and posed for a picture in front of engine #4.
The men of Vicksburg Central Fire Station, A Team a great bunch of guys and my newest buddies.
Left to Right: Assistant Chief Craig, Lt. Chris, Capt. William, The Old Guy, Firefighter Brantly, FF Andrew, FF Preston, Capt. Shane, FF Vincent, Lt. Anthony, taking the picture was FF Nate.  Sorry about that Nate.