A Cure for MS Is So Close

If you are ready to make a donation, click here. Once on my participant page, click on "Donate to Frank" which is above the barometer on the top left side of page. 
Or if you prefer you may mail your donation to me and I'll submitt to the NMSS for you:
Frank Briscoe
11174 E Nebo Hill Road
Nevada, MO 64772
Make Check payable to: National MS Society and on the memo line of your check insert my name.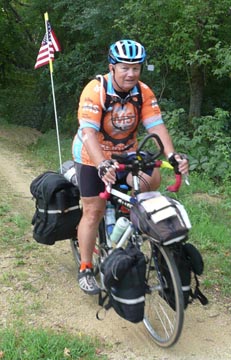 This will be my 8th year to participate in a Multiple Sclerosis (MS)-150 Bike ride to find a cure as well as provide treatment and therapies for MS victims.  During that time Spirit (the name I've given my bicycle) and I have peddled over 17,000 miles through many spectacular cities and states in the USA for the MS Society.  In 2012 I biked the length of the Mississippi River from the headwaters at Lake Itasca, MN to the Gulf of Mexico in LA.  The generosity of family, friends and many folks I met on the ride we raised more than $4,000.00.
Since this may very well be my last year to fund raise goal for the NMSS I'd like to go out with a very successful campaign.  Thus the goal for 2013 raise $6,000.  But your support is vital to accomplishing this goal.
Thank you my friends for supporting a charity that does make a difference in the life of folks who have MS.
Frank