Distance 63 miles, 10.7 mph average, 5:51 ride time, on the road for 8 hours and 20 minutes, expenses $52.00
Thanks to Bicycle Bob and wife Jackie needing to leave for work early I was able to get a great start to today's ride  Bob made sure I had the right fuel for a hard day of riding, he prepared me a healthy and filling cheese and mushroom omelet which was so good, too.  Bob even showed me a short cut out of town which allowed me to avoid a steep hill heading south on Hwy 35 and brought me out at the visitor center I had visited the day before so was able to take another look at the blue water of the St. Croix River merging with the Mississippi but again was unable to capture a picture which shows the colors merging.  Over the next 50 miles or so I had to do some long climbs where my speed would drop down to 3-4 mph taking close to an hour to climb but were still doable as the road generally flattened out or even had a nice downhill on the other side.
Stopping for my favorite midmorning snack a BLT on wheat toast with mayo I found this interesting v-hull aluminum boat at the entrance to Driver Dave's Diner in Bay City to be a unique yard ornament.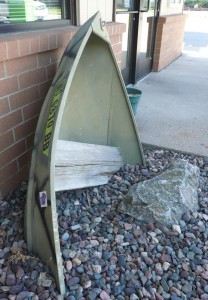 The roads in this first section of Wisconsin are as smooth and nice to ride as they were in Minnesota making for an enjoyable ride, even considering the few hills I had to climb.  I especially enjoyed the beauty of the bluffs riding into Alma.
Unlike the previous four nights in Alma I would have to be resourceful to find an inexpensive place to stay.  I really don't care to pitch a tent and try to sleep in the sweltering heat even the north is suffering through this summer.  My first stop was the Visitor Center/Chamber of Commerce.  The gentleman there referred me to an older home that had just been renovated and turned into a B&B but it was full.  My next stop I saw a lady going into the Alma Senior Center and checked to see if I could stay there but again struck out.  Leaving the Senior Center, which was on the main street through town I was passing by the Hotel Alma which was also a local bar and restaurant.  There were four gals sitting out front enjoying a cold one or two and waved to me.  I thought what the heck maybe they would know where I could stay this night without costing a small fortune in this resort town.  One gal spoke up and said sure right here it will only cost you $30.00 which got my attention.  I introduced myself and agreed to the rate.  The gal who gave me the quote turned out to be Crystal the owner of the establishment.  After my introduction she said what the heck you can stay for $15.00.  Now that is more to my budget considering I had to pay $32.00 to camp up by Bena my first night out.  The hotel is 40's vintage shows it's wear but the room was clean, had AC something I'm quickly learning many places here in the North don't have.  I did have to share the bathroom but there were no other guests staying the night so in essence I had the whole upstairs of the place the place to myself.  My tent was still wet from the night before and I was able to hang it out the upstairs balcony overlooking the main drag, wind was blowing hard enough it looked like my tent's rain fly was a giant tent.  It only took minutes to dry my entire tent, fly and ground cloth.  I then cleaned up, went downstairs and enjoyed a couple cold beers during "Happy Hour" long necks (12 ounce bottles) were only a $1.25 each.  Crystal got the extra $15.00 I saved on the room in beer sales to me.  I then went into the dining room and enjoyed a great fried chicken dinner for a whopping sum of $8.95.  The Alma hotel, if you don't mind staying in a dated and not quite a 100% condition which I don't, turned out to be quite a bargain.  Great food, room rate hard to beat and locals in the bar were friendly and fun to visit.  Crystal is doing a great job with the Alma hotel as well as her lead barmaid Marian.  Finally to my surprise and delight the locals did not get rowdy and by about 10:00 PM had called it a night.  I was needlessly worried about not being able to sleep being above a bar for the night but not problem.  If you're on a budget and want a bargain in Alma, WI you need to check out this hotel.