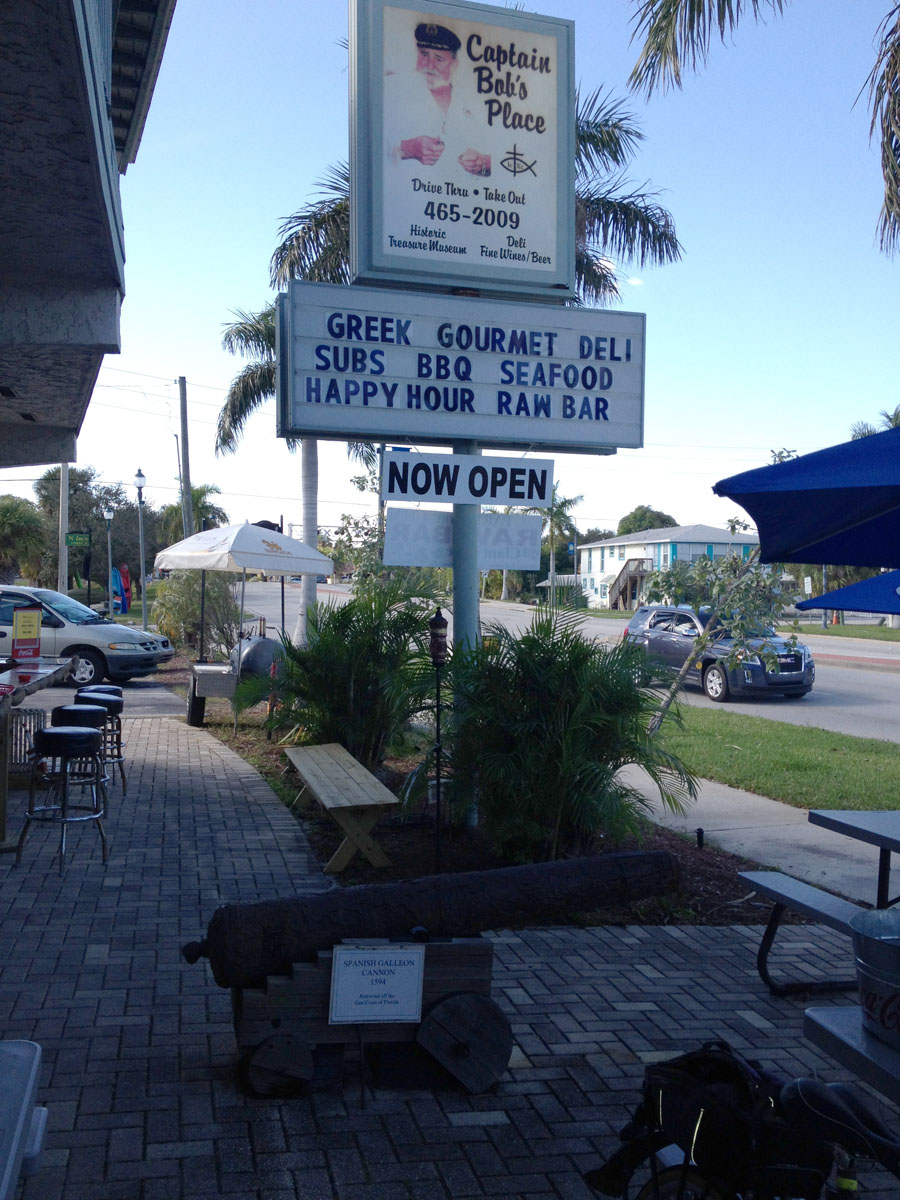 I had ridden my bicycle Spirit to Ft. Pierce from Vero Beach. Just before crossing the big bridge on Seaway Drive, I spotted "Capt. Bob's Place" restaurant on the right side of the highway, with a large sign advertising Greek Gourmet, BBQ, Subs and Seafood all dishes I enjoy eating.  The sign included a picture of this friendly looking old sea Captain which caught my attention as did the outdoor seating available (always like to keep close to Spirit, so she doesn't get bike-napped) and a sign displaying the place serves beer.  Capt. Bob's had everything and more I look for when it's time to refuel this body in order to be able to ride a few more miles.  No fast food joints for me, part of my bicycle riding and touring is to be able to enjoy the experience of eating at local food establishments and meet the folks, often time the owner/s, who operate them.
Upon entering Capt. Bob's I was treated to a warm welcome by First Mate (Capt Bob's wife) Lois and crew member Ann.  When I asked what's good, the girls responded in unison "Everything".  Looking on the menu boards, one above the kitchen and another directly across from a display case I was surprised with the large variety of menu items to choose from.  Asking a couple more questions, I learned Capt. Bob and Lois's heritage is Greek, made my decision what to order easy, it would be a Greek dish Moussaka with a small Greek salad on the side and of course a beer or two.  I told the girls I'd sit outside and they graciously offered to bring out my lunch even though they were fairly busy with a steady stream of folks picking up to-go orders, a good indication the food here would be good.  A couple other diners after placing orders came outside to dine; visiting with them I learned they eat at Capt. Bob's frequently as the food is delicious.  One gal had ordered the same dish as I and she told me it was one of her favorites.  Another diner had ordered a sub sandwich, which was her favorite menu item.
Crewwoman Ann brought out my Moussaka order, large enough to require being in a serving bowl and the Greek salad in a separate pasta size bowl.  "Whew!  Sure is a lot of food" I told Ann, "Think I'll have to have another beer to go with this much food" as I began to stand up to go inside for the beer, Ann said sit enjoy your meal we'll bring a beer out to you.  A minute or so later crew mate John brought me an ice cold one.  Then Rick, Head Cook for the BBQ and Seafood dishes came over to the table to visit a couple minutes, asked him to take a picture of me eating this hearty meal, which he did.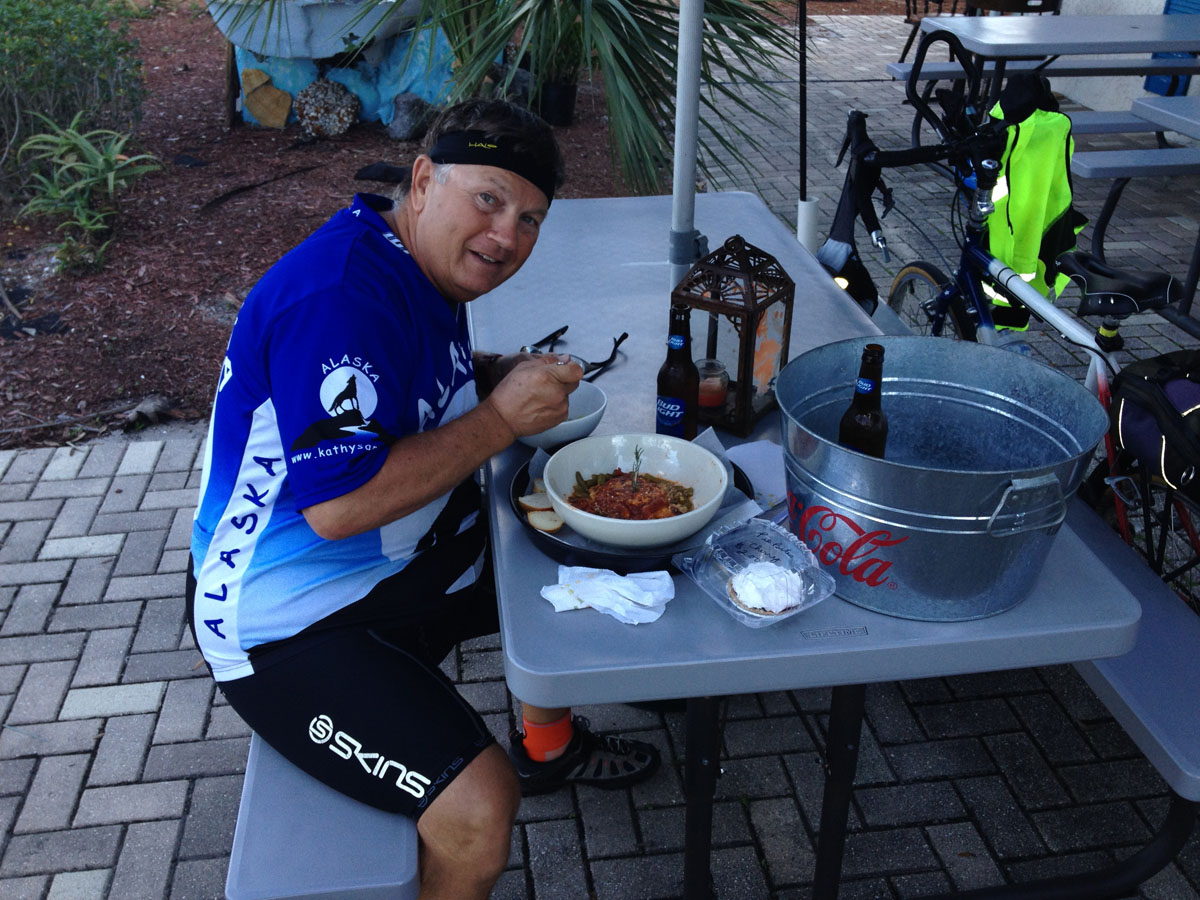 The Moussaka was some of the best I've ever eaten, simply "Awesomely Good" as was the salad.  As I was doing my best to finish off this wonderful meal, Lois brought me out a Cherry Bite desert, a miniature cherry pie which they make on premises.  All the dishes at Capt. Bob's are fresh and made in house, not premade frozen from an outside food wholesaler.  My final surprise, the total of check $13.95, which included two beers, are you kidding me, what a bargain.
After paying Ann gave me a short history lesson about Capt. Bob and the restaurant.  Capt. Bob comes from a family of Hard Hat Divers, he is somewhat famous for a Spanish Sunken ship he found and recovered many many artifacts of great value.  The most outstanding of the find a Life size solid gold statue of the Madonna holding baby Jesus, which he is giving to Spain, along with many other artifacts.  A few items of the treasure he recovered have or are being donated to various museums in Florida and the Smithsonian in Washington DC.  There's also a good deal of artifacts on display around the perimeter on the inside of the restaurant as well as a cannon on display outside.  Capt. Bob gives talks about his treasure hunting experience and he especially enjoys visiting with children and even hosts a special "Little People's" day at the restaurant.  Earning money from treasure hunting was not Capt. Bob's primary motive, he loves diving and he loves sharing his treasure finds with the world.
How lucky I was to stumble upon Capt. Bob's Place not only did I find a treasure of great food at modest prices but there was an added bonus of seeing real treasure from a Spanish Galleon.  If you find yourself in Ft. Pierce, Florida and in particular if you have children and ready for a great meal, enjoy learning some history you have got to eat at Capt. Bob's Place.